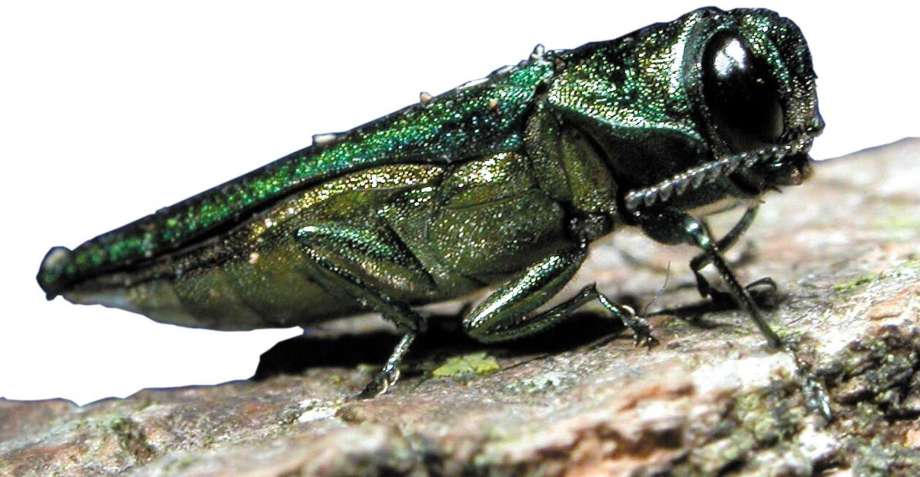 Wilton's ash tree population threatened by invasive species
WILTON — Two years after confirming the presence of the emerald ash borer, an exotic beetle responsible for the deaths of hundreds of thousands of ash trees across North America, town officials are already seeing an adverse impact on the town's foliage.
The emerald ash borer was originally discovered in southeastern Michigan near Detroit in the summer of 2002. The beetles, which hail from Asia, feed on the inner bark of ash trees as larvae, disrupting the tree's ability to transport water and nutrients, effectively smothering the trees.
Though the name "emerald ash borer" may sound innocuous, the tiny green interloper has killed hundreds of millions of ash trees in North America, causing regulatory agencies and the USDA to enforce quarantines and fines to prevent potentially infested ash trees, logs or hardwood firewood from moving out of areas where infestations occur.
In just 15 years, the species has cost municipalities, property owners, nursery operators and forest products industries nationwide hundreds of millions of dollars, according to the Connecticut Agricultural Experiment Station.
In 2012, Connecticut became the 16th state known to have the emerald ash borer within its borders. Originally discovered in Prospect, a town just outside of Waterbury, the species has since spread throughout Fairfield, Litchfield, Hartford and Middlesex counties, arriving in Wilton in 2015 and leaving a "cataclysmic" trail of tree devastation in its wake, according to Claire Rutledge, an entomologist with the Connecticut Agricultural Experiment Station.
"We go to towns and tell them that their trees are all in danger, and they respond, 'Oh, but they don't look so bad.' And the next year, that changes to 'Well, it doesn't look that bad.' But then the next year, it becomes 'Oh my gosh, 65 percent of the ash trees in town have died,'" said Rutledge.
Unless treated, Rutledge said that infested ash trees quickly decline and die within a period of three to five years. In addition to speedy decline, Rutledge said that there are a number of other factors contributing to the unrelenting spread of the beetles.
"They are cryptic, and hard to find. And they spread quickly on its own," said Rutledge.
All true ashes such as green ash, white ash and black ash — which make up 4-15 percent of the state's forests and two to three percent of the trees in urban areas around the state, according to the Connecticut Agricultural Experiment Station — are susceptible to the ash borer.
The effect in Wilton could be particularly devastating too, as the Tree Committee estimates that approximately 20 percent of the trees in town are ash trees.
And with over 1,000 acres of natural preserves and countless other densely forested areas around town, Wilton's Director of Environmental Affairs Michael Conklin said the overall impact of the invasive species has been hard to quantify so far.
However, Conklin did point out that the town is already experiencing the advanced decay of ash trees in some noticeable parts of town, like that along the banks of the Norwalk River on Schenck's Island.
"It's a serious concern," said Conklin.
Though ash trees found with the borers early enough can be treated with pesticides, Conklin said that large scale treatment of Wilton trees could potentially be harmful to pollinating insects like bees.
Instead, the Department of Environmental Affairs has elected for a different strategy. In the case of Schenck's Island, officials will replace dead or dying ashes with a different stock of tree. When the ash borers die out or diminish in number, the department will then see about replanting ash trees.
As another alternative, the state's agricultural center is also stocking effected counties with an influx of wasps, which naturally hunt the beetles. One such experimental stock was released nearby in Weston's Trout Brook Valley and along the Aspetuck Land Trust.
Despite these efforts, experts say that the borer has already established a foothold in North America and eradication is no longer feasible. Instead, focus has shifted to slowing or preventing the spread of the insect into new areas while managing and reducing its numbers in places where it is already found.
In accordance with this goal, the entire state of Connecticut was quarantined in 2014 to help stem the flow of ash borers to other unaffected states.
Since firewood has been identified as the main means of transportation for the invasive species, the quarantine prohibits the movement of ash logs, nursery stock and yard waste, as well as all hardwood firewood, out of the infested counties and into the rest of the state. In addition, a self-issued firewood certificate of origin is required when moving firewood anywhere within the state.
ptomlinson@hearstmediact.com; 203-842-2570; Twitter: @Tomlinson_PE